Mannequin Mode on 29th Jul 2017
Stores from New York to Swedish have begun a change over aiming better representing what their clothes will look like on the everyday woman and man.
Curvy shoppers, rejoice: Department stores are introducing plus size mannequins to their women and men fashions floors. Department store buyers choose to use realistic mannequins signals a genuine effort to appeal to a wider base of shoppers and promote body acceptance in the fashion world. In an industry that uses sizes 4-8 as standards, it's exciting to see major retailers take steps to accurately portray women and men's bodies.
Everything from TV shows to soap commercials has begun endorsing a promotion of the normal-looking woman and man. Sizes that shows better images of the average body are being used as a way to promote confidence in one's own appearance as well as give shoppers a better idea of what clothes will actually look like on them instead of the unrealistic proportions many current mannequins have.
The mannequins you purchase are begun to reflect this change and provides you with the opportunity to exhibit your clothing to shoppers in a way that encourages them to at least try clothing on. With curvy and realistic mannequins, no longer will customers look on and be intimidated. If your mannequins look more like everyday people, then everyday people can picture themselves in the clothing.
http://www.mannequinmode.com/plus-size-abstract-ma...
You can purchase the three fashionable plus size female mannequins in three eye-catching poses matte white color with high heel feature on feet, includes base. Features detachable arms, hands, and torso, plus one removable leg for easy dressing.
You can also purchase our realistic plus size mannequins below too.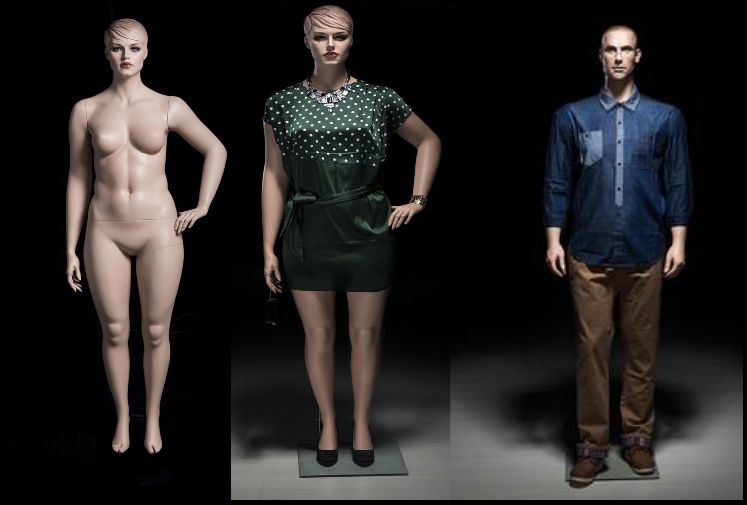 http://www.mannequinmode.com/plus-size/realistic-m...

In a recent poll by the NPD Group - Market Research/Consumer Shopping Trend, the results showed that 42 percent of customers say items on a mannequin influence their decision to purchase. The sway of the faceless mannequin in your store position themselves right behind family and friends as stated by the vote.

Please see below video from UND - The University of North Dakota regarding Plus Size Mannequin Trend.

Stay turned for our next blog, the subject will be "What's New at Mannequin Mode?".
Was this post of value to you? For more great blog posts like this subscribe to our Newsletter
Make our Mannequins yours. Sign up today for our Newsletter & receive a $10 Coupon.
Mannequin Mode offers a variety of retail store fixtures and retail store supplies including but not limited to mannequins, dress forms, body forms, racks, display tables, and display cubes. For customer service, please feel free to contact us at (347) 453-2931 or by e-mail at info@mannequinmode.com